Bringing your young child or toddler to Disney is absolutely the best experience ever. I always urge my clients to bring their kids at a young age because they are fully immersed in the magic of Disney. The princesses are the real thing and the characters come to life right before their eyes. It is truly a dream come true!
A Disney trip can also be overstimulating and exhausting for young children and adults as well. I have found a trick that has helped me out for years on our vacation. This Disney vacation hack is called "Tinker Bell in a hotel". I stumbled across this on YouTube one day (The Neverland Family) and I thought it was the best idea ever.
Every year we pack in our suitcase a Tinker Bell doll or figurine; it could even be a cardboard cut out of Tinker Bell. It really doesn't matter as long as Tink shows up!
If your child practices patience and good behavior during the day, at night when everyone is asleep, Tinker Bell magically shows up with a small gift. In the morning your child can find Tinker Bell in the room sitting near the chosen trinket. Sometimes there is even pixie dust sprinkled around the gift.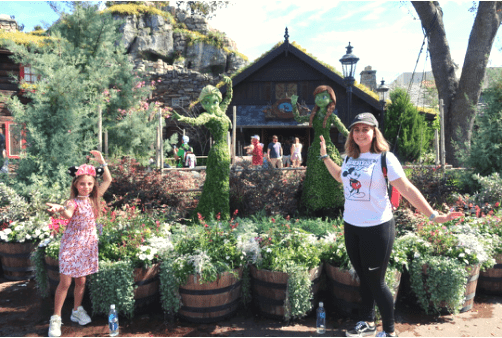 The present does not have to be anything elaborate. Most days it is simply an item from the dollar store or a special candy or treat. Occasionally it can be a stuffed animal or a doll or something more substantial. I find this also helps out immensely in not having to purchase many of the souvenirs in the Disney parks that can be on the more expensive side.
The whole idea of the possibility of Tinker Bell NOT showing up on any given night due to a tantrum or a meltdown really has kept my children in check. This has also become such a fun tradition over the years. When packing my kids were always excited to find our Tinker Bell doll and bring her along. Even now my teenagers ask if Tink will be joining us on our next trip!
Tinker Bell has helped a lot and I truly appreciate her dedication in following through with this on every trip. Unfortunately she can't do it alone and there are other things to keep in mind.
Disney days, although incredibly fun, can also be long, hot and busy. Be sure to find time to rest in the afternoon. Typically our family arrives at the parks prior to opening so that we can leave by lunchtime. Having a few hours at the resort to swim, eat, and nap helps everyone feel refreshed. Then we can return in the late afternoon to enjoy dinner and more time in the park.
I hope that you consider trying Tinker Bell in a hotel. Of course it doesn't necessarily have to be Tinker Bell, you can choose any Disney character that suits your family.
To hear more about our experiences with this tip, please check out my coordinating YouTube video here:
To book your Disney vacation, contact our friends at Mickey World Travel. They will make sure you have the most magical vacation, by monitoring your booking for future discounts, as well as booking your dining reservations and Fast Passes once they return to the parks.
Contact me today to start planning your Disney vacation!