Planning a runDisney race-cation takes a completely different mindset and involves a distinct perspective. About a year ago after what I like to refer to as a moment of weakness, I decided to sign-up for the Walt Disney World Princess Half Marathon. Hopefully my tips and pointers can help you out, as you plan for the event that I like to refer to as, "The most stinkin' magical fun one can possibly have while sweating their brains out."
Registration
In order to register for this epic princess race and other runDisney events, it takes more than just a wave of a magic wand. One must login on the exact registration day and time in order to sign-up. Most of these popular runDisney races tend to sell out in days, hours, sometimes even minutes, so one needs to have some quick typing skills. If the Fairy Godmother is on your side and you complete the registration, you will immediately receive a confirmation email… then the training begins. Never fear if you are a running novice, runDisney partners with former
Olympian and expert trainer, Jeff Galloway, who sets up distance specific training plans. All that info can be found on the runDisney website.

Tip: Disney uses the website Active.com for all their race registrations. Make sure before the day of registration that you already have an account set-up with Active.com and that all your info is up-to-date.
Racecation Planning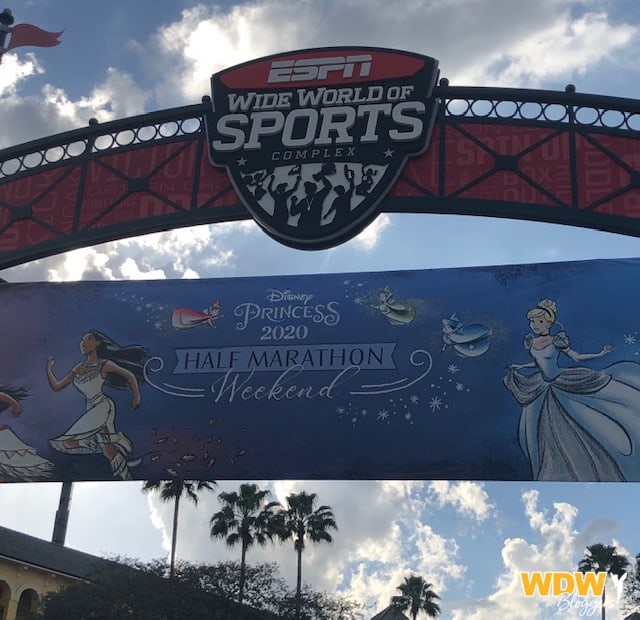 It's always a good idea to arrive at Walt Disney World at least a day or two before the race. You need to allow time to get yourself settled, check out the enormous expo at Walt Disney World's Wide World of Sports and to properly prep for the upcoming run. I also recommend viewing the overall trip in a more laid back fashion than the typical Disney vacation. Let's face it, if you go all out from rope drop to park closing everyday and then expect to have a great race, you may be very disappointed and extremely worn out! If you plan to do multiple races as some
princesses choose to do, you need to factor in that you might not have a full day of park time left after your race each day. It's also important to note that each race requires a pre-dawn start time, usually racers must begin boarding the race shuttles around 3 am.

Tip: On race days, plan your FastPasses for the afternoon times, then you won't be rushing to get yourself park ready! Bring several pairs of comfortable shoes. You won't want to wear your race shoes in the parks every day.
The Expo
The day before your race if not sooner, you will need to go by the Expo. In case you haven't heard this thing is super-sized! All the onsite Walt Disney World resorts will have specific shuttles to get runners over to the Wide World of Sports. Don't forget to bring your wallet with ID and your race registration form. If you left some of your running gear at home or just want to check out the newest gear, this is the place to do that. It's important to know that runners pick up their race bibs in one building, then proceed to another building to get their race shirts. The
Expo will also have informative lectures and demonstrations by leaders in the field of running.
Tip: The Expo will often have a special race specific sweet treat and beverage. Check the concession stand to snag one of these little extras to celebrate all your hard work.
Pre-Race
Always lay out ALL race gear the night before including your outfit (or costume) and any race nutrition that may be needed. Make sure to get to bed early the night before the race, since the alarm will go off early on race morning. Depending on the weather, you may want to wear an old
sweatshirt or hoodie that you can discard at the race startline. All items left behind will be donated to a local charity.

Tip: Go ahead and put all the extras you might need for before or after the race in the clear race check bag that your race bib will come in. This way you won't forget something important. Also pack your ID and a credit card in case you need to treat yourself to a princess champagne at the finish line.
Race Day
Hundreds of hours of running and training have come down to this day. With nervous anticipation, you wait for the race to begin. It really is a sight to behold to see thousands of runners in various types of princess, prince, villain and other classic costumes line up to sweat-it-out together. The race itself features tons of amazing character photo ops (be prepared to wait in a line), marching bands, giant screens playing Disney movies, and much more course entertainment. There may have actually been some moments when I actually forgot I was
running… well maybe. The definite highlight for any princess superfan is the moment when you run through Cinderella Castle. Once you bibbity bobbity boo your way to the finish line you will feel like a real princess.

Tip: No matter how slow you think you are…get in the line for a photo in front of the castle. Trust me, you need a castle pic. I'm not super athletic, but some runners had really perfected the coveted "jump picture" in front of the castle (maybe next time for me). Plan a great celebration dinner at one of Walt Disney World's best restaurants for such a magical accomplishment.
Put your glass slippers away for a bit, lace up your running shoes and plan a perfect Walt Disney World Princess Racecation. It truly will be the adventure of a lifetime. Let's face it, running a big race is an excellent excuse to eat a little more of that fabulous Disney cuisine.
Looking to go on a Disney vacation? Book with our sponsor, Mickey World Travel! Contact me to start planning your Walt Disney World vacation today!