Carnival Cruise Line has recently released the news that they have cancelled all cruises through April 30, 2021. Along with these updates, they have delayed cruises on Carnival Magic, Carnival Paradise, and Carnival Valor until November 2021. They have also cancelled all sailings from the San Diego port through April 2023, with the exception of the voyages to Hawaii which have been moved to the Long Beach port.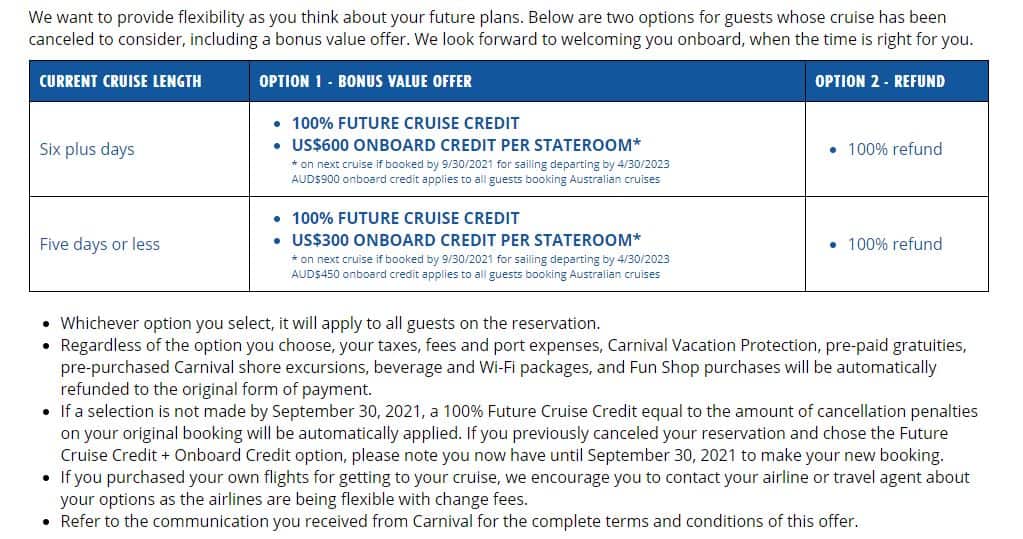 Along with the cancellation, The Carnival Victory is due to have its dry docking period completed by November 2021 and will be stationed at Long Beach once it's complete. It will be transformed into the Carnival Radiance. Because of the cancellation of cruises from the San Diego port and Carnival Victory/Radiance's dry docking, Carnival Miracle will be moved to the Long Beach port and take over the 3 and 4 day itineraries along with the Hawaii cruise until November, 2021. After the return of the Carnival Radiance, it will resume the itineraries that the Carnival Miracle took over and the Carnival Miracle will start new 4 and 5 day Mexico cruises.
Clients whose cruise has been cancelled have until September 30, 2021 to request either a 100% refund or Future Cruise Credit with On Board Credit. To receive the On Board Credit, you must book a new cruise that departs before 04/30/2023 by the 09/30/2021 deadline as well. If a selection is not made by September 30, 2021, a 100% Future Cruise Credit equal to the amount of cancellation penalties on your original booking will be automatically applied.
Looking to go on a Disney vacation? Book with our sponsor, Mickey World Travel! Contact me to start planning your Walt Disney World vacation today!
Email: KellyD@MickeyWorldTravel.com