The holidays are in full swing at Disney's Hollywood Studios. Santa Claus and his elves can be seen in a character cavalcade, decorations are everywhere and new holiday themed treats can be found to help put you in a festive spirit. My four-year-old is a snacker. We could have hunted for holiday treats all day long and she would have been thrilled! Here are a couple of her favorites that we tried while exploring the park.
Frozen Salted Caramel Hot Chocolate
The Frozen Salted Caramel Hot Cocoa can be found at Rosie's All-American Cafe near the Tower of Terror. It comes topped with marshmallows, green sugar, and a chocolate drizzle. There is also an adult version with Kahlua (which my wife had all to herself). A Mickey Jingle Bell glow cube can be added to both the regular and adult version. My daughter loved that the texture was more like a slushie than a milkshake. We fought over the marshmallows (she decided taking turns was the most fair). After all of the marshmallows were gone, we poured it into my daughter's rapid refill mug so she could enjoy it while we were on the move. The glow cube cycles through several colors!
Olaf's Snow Flurry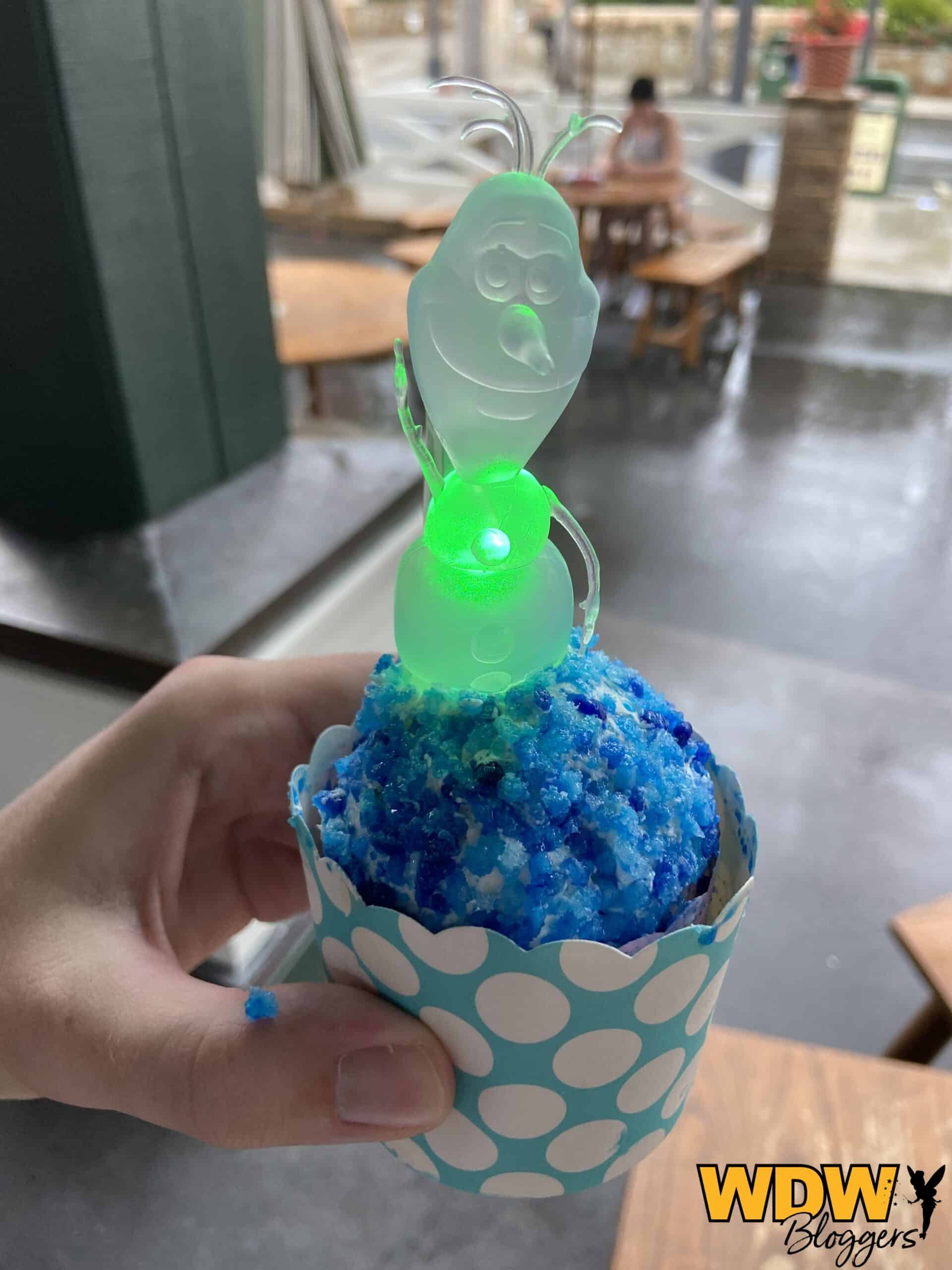 Olaf's Snow Flurry is another treat found at Rosie's All-American Cafe. Yes, the drink was such a hit that my daughter wanted to go back to get the "Olaf cupcake" after we watched the Frozen Sing-Along. It's a yellow cupcake with vanilla buttercream frosting, snow fairy sugar, and a souvenir Olaf glow clip. Both my daughter and I are chocolate lovers, but this cupcake was a huge hit. The frosting is very generous in proportion to the moist yellow cupcake. The Olaf glow clip also cycles through several colors. She's already planning on clipping it onto her Elsa dress later this week!
Looking to go on a Disney vacation? Book with our sponsor, Mickey World Travel! Contact me to start planning your Walt Disney World vacation today!
Email: jeremy@mickeyworldtravel.com