I scream….you scream…. we all scream for ice cream! When you are vacationing at Walt Disney World, the most popular place to get some of the best ice cream is none other than Beaches and Cream Soda Shop located at Disney's Beach Club Resort.
During a recent trip to Walt Disney World, we made it a point to make a reservation at this extremely popular restaurant on the last night of our trip. There is no better way to end a wonderful week than by indulging in the best ice cream sundaes that Disney has to offer.
Beaches and Cream offers meals such as burgers, sandwiches and sides. However, we were all about the ice cream after a long day in the park!
They are mostly known for their famous Kitchen Sink sundae which serves 4 or more guests. This gigantic sundae is served in a themed kitchen sink type bowl and includes 8 scoops of ice cream along with every topping they have. Not to mention an entire can of whipped cream!
If you aren't feeling that brave, they offer smaller Mickey and Minnie kitchen sinks. These are wonderfully scaled down sundaes, and the best part is that you get to keep the sink as a souvenir! I personally have one in my kitchen and use it as a sponge holder!
Beaches and Cream Soda Shop offers indoor and outdoor dining. The inside is beautifully decorated and themed after an old fashioned ice cream parlor. There are ice cream cone tables outside, where you can view the amazing pool the Yacht and Beach Club Resorts share. Since it was a nice evening, we opted for outdoor seating.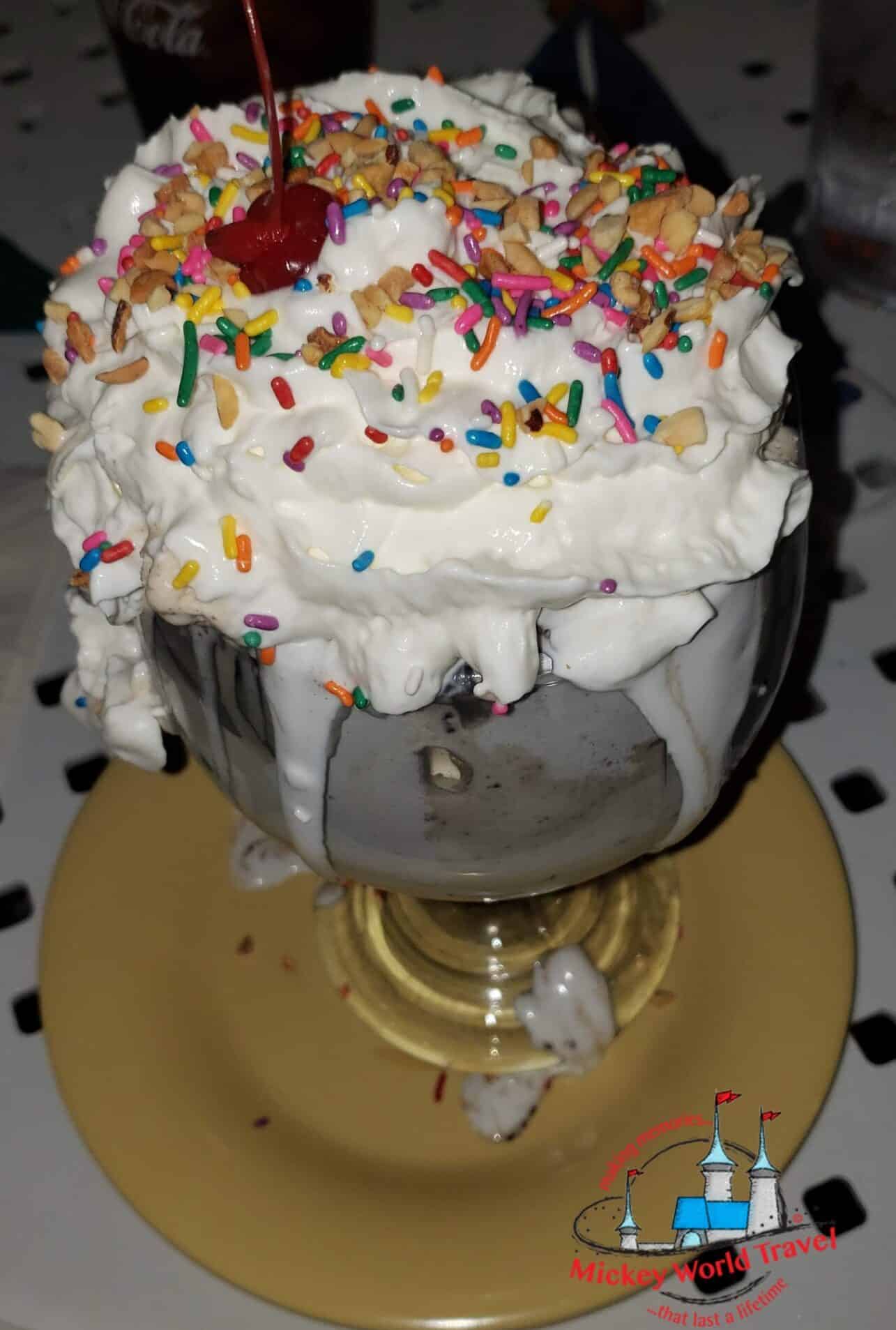 I ordered the Snickers Sundae, which did not disappoint! 3 scoops of your choice of ice cream, hot fudge, marshmallows, whipped cream and tons of crushed snickers of course.
My son had the second most famous sundae that they serve, the Now Way Jose. 3 scoops of your choice of ice cream, peanut butter, hot fudge, whipped cream along with peanut butter and chocolate morsels! I can see why that is so popular!
My husband was feeling nostalgic and went with the classic Banana Split. Hands down the most amazing one I have ever seen!
Beaches and Cream Soda Shop will for sure be on my must-do list again! Just remember when you make a reservation here, plan to save room for dessert… you will need it!
To book your Disney vacation, contact our friends at Mickey World Travel. They will make sure you have the most magical vacation, by monitoring your booking for future discounts, and book your dining reservations and Fast Passes once they return to the parks.
Contact me today to start planning your Disney vacation!
Email: joanne@mickeyworldtravel.com