For adventurers looking to step outside the theme park standard fare, scoot on over to Skipper Canteen! We're not even "lion", it's the cat's meow. This culinary journey is located in Adventureland and consists of three dining areas…the Colonial Area Mess Hall; the Jungle Room; and the S.E.A., which is the secret meeting place for the Society of Explorers and Adventurers.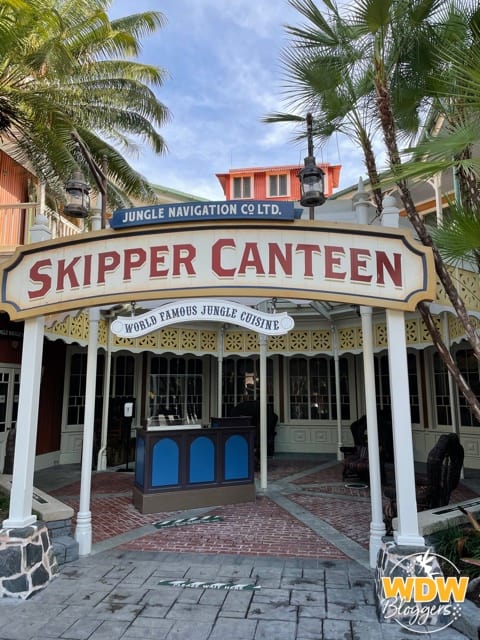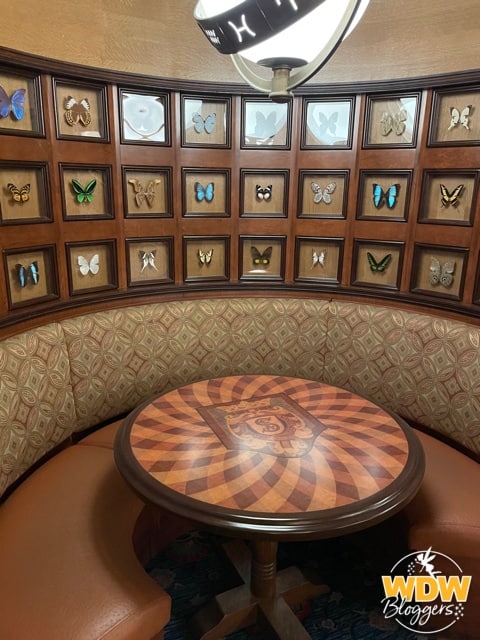 Skipper Canteen, which opened in 2015 has tweaked and
adjusted their menu to include flavors from around the globe. This fine establishment serves up good food and great puns, so be ready to sit back, let loose, and let the belly laughs roll!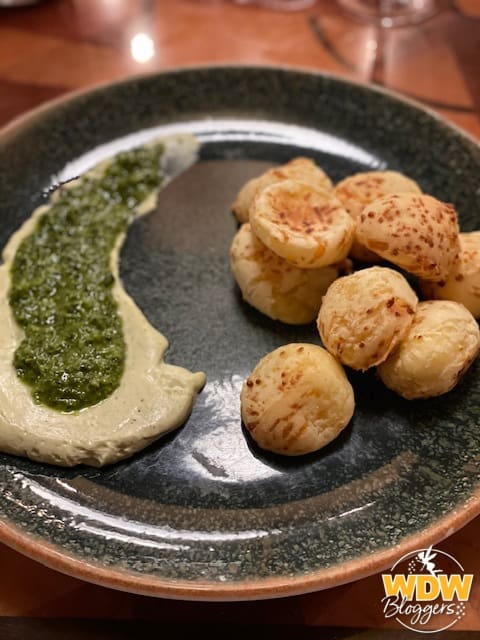 Someone spilled the beans about Skipper Canteen's secret menu item! Let's cut to the cheese and mention Pao de Queijo, which is cheese bread served with chimichurri cream cheese. This appetizer was as yummy as it sounds!
I was delighted to find out that there was also a secret drink menu item, the Passion Fruit Sangria. It was as tasty as it was pretty, filled with flavors of passion fruit, pineapple, and Prosecco.
Things got really corny as we enjoyed our second appetizer, Orinoco Ida's Cachapas, which consisted of corn pancakes topped with pork, roasted corn, and fresh salsa.
We decided to share Perkins Thai Noodles, an entree of tofu, seasonal veggies, and rice noodles tossed in a spicy soy-chili-garlic sauce. We wanted to "wing it" and substituted the tofu with chicken. We tried to "ramen" calm as we slurped down every bit of the perfectly seasoned Asian noodles.
The food journey was out of this world, but we thought the star of the experience was our Skipper. We let her know from the start that we were ready for all of the punniness that she could bring, and she let it rip! She instantly became our favorite as she directed us to the library hallway in search of her book of choice, "Fifty Shades of Khaki."
We left full with sore bellies and cheeks from all of the laughter and smiles! Skipper Canteen delivered a trifecta experience of theming and decor, global flavors, and top notch comic relief…and was well worth the trek!
To book your Disney vacation, contact our friends at Mickey World Travel. They will make sure you have the most magical vacation, by monitoring your booking for future discounts, and book your dining reservations and Fast Passes once they return to the parks.
Contact them to start planning your Walt Disney World vacation today!
Email: marci@mickeyworldtravel.com